Winters are just around the corner and leather jacket is something that we all love donning them. The class and uniqueness that it adds to a simple dress or gown is just next level. It can take the whole dress from zero to ten and would just add beauty to anything you wear including basic tees and light knits.
Their versatility allows you to pair them up with your favourite pair of jeans or those shorts that you got when you went on a trip with your friends. These leather jackets would just go with everything and anything. The real leather jackets have their own aura that makes the simple dress beautiful in just their own way.
However, investing in leather jacket is not a piece of cake, it requires a hefty amount and some extensive research as well. Most of the leather jackets cost around 200 pounds which is a lot for most of the people. The good news is, we have a fix for everything, if you think you cannot afford to buy expensive jackets, you keep reading this blog and we will tell you about some super affordable ones.
Pro Tip: If you are on a budget, we recommend you do not invest in some trendy pieces as trends come and go. The best way to get a leather jacket is to have something timeless and classic. The designs that would just go a long way that you do not need to buy your leather jacket every season.
We have been looking for some best leather jackets to make sure you have everything that you need in much lesser rates. The jackets that would suit everyone just like silhouettes and buttery soft leather do.
If you are at the lookout for the real and trust worthy online place to get your leather jacket then there is no better place than the Real Leather Garments as the reviews say. Our online store earns commissions from our retailers however, we do not let this impact any of our selection criteria. The revenue that we collect allows us to fund journalism of the Real Leather Garments.
8 best leather jackets for women in less than 27£
1. Ladies Petite Fit Fashion Stylish Faux Leather Lined Black Biker Jacket
Product Description:
Ladies faux leather jacket.
Regular fit.
Polyurethane
Fastening: Zipper
down
regular
Long Sleeve
Lined.
Zip secure pockets.
Made for BHS- Brand new with tags-RRP IS £45
2.ONLY Women's Onlgemma Faux Leather Biker OTW Noos Jacket
Product Description:
OnlGemma leather jacket impresses with a modern look

Only offers long-lasting wearing comfort and stands for high quality at a fair price.

50% Polyurethane, 50% Viscose

Do not bleach, do not tumble dry, do not iron, do not dry clean.

Fastening: Zipper

Faux Leather

Normal

Long Sleeve

Modern look and comfortable fit. OnlGemma leather jacket has everything that women's leather jackets need to have.
3. ONLY Women's Onlfreya Faux Leather Biker OTW Noos Jacket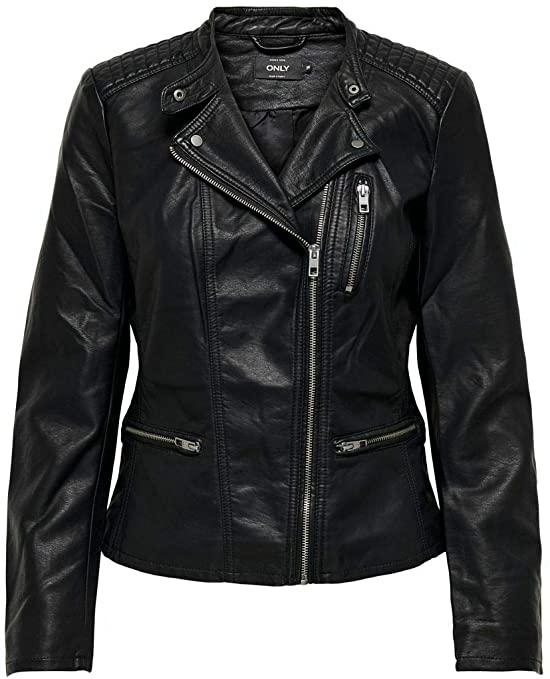 Product Description:
This transitional jacket made of imitation leather impresses with many exciting details. The jacket from Only has quilting in biker look, several zip pockets and is closed with a diagonal zip.
The slightly tailored, body-hugging fit flatters the figure. The jacket made of PU and viscose is durable and can be installed in a variety of combinations. How about a turtleneck knitted dress, tights and boots?
50% Polyurethane, 50% Viscose
Do not bleach, Do not tumble dry, Do not iron, Do not clean
Fastening: Zipper
Collar Style: Band
Faux Leather
Long Sleeve
Faux leather jacket
4. SS7 Women's Studded Faux Leather Biker Jacket
Product Description:
Faux leather Biker Jacket.

2 Front Zip Pockets. Gold studs.

100% Viscose

blouson

Fully Lined

Zip Fastening

Length Approx – 19″ Inches. (48cm)
5. ONLY Girl's Konfreya Faux Leather Biker OTW Noos Jacket
Product Description:
85% Polyester, 10% Cotton, 5% Viscose

no information

Fastening: Zipper

Faux Leather Jacket
6. New Women's Leather Look PU Jacket with Gold Style Trims 6-24
Product Description:
Ladies PU faux leather jacket made from 100% polyurethane shipped from UK warehouse

Stylish faux leather biker with gold style trimmings

100% Polyurethane

Clean Only with a Dry Cloth

Collar Style: Spread

blouson

Size range: 8, 10, 12, 14, 16, 18, 20, 22, 24

Classic Asymmetric neckline and pop studs on the collar

Material: PU faux leather (Polyurethane)
7. SS7 Women's Faux Leather Biker Jacket
Product Description:
Faux leather Biker Jacket.

2 Front Zip Pockets.

blouson

Fully Lined

Zip Fastening

Length Approx – 20″ Inches. (50cm)
8. Women Cool Faux Leather Jacket Long Sleeve Zipper Fitted Coat Fall Short Jacket
Product Description:
Cotton

Pattern Type: Solid

70% Cotton, 30% Polyester

blouson

Season: Fall, Spring, Winter

Long Sleeve

Length: Regular

How to wash: Hand wash Cold, Hang or Line Dry

Long-sleeved jacket so that you feel warm in the early autumn, black calm, blue and beautiful, is the most early fall partner